I actually received it last week but between my blogger emergency, the weekend and then the guestblogger yesterday I didn't get around to blogging about it until today.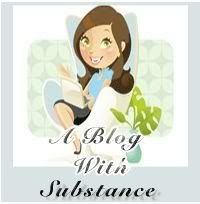 The wonderful Amy from
Una Vita Bella
and a recent guestblogger on here gave me this beautiful award. There are three things I have to do as recipient of this award
1. Thank the one that gave it to you.
2. Write my blog philosophy, motivation, experience in 5 words.
3. Pass the award on to 10 blogs.
I have fulfilled part one so I am moving on to the last two.
challenging, fulfilling, hope, outreach, family
I will leave them for you to interpret but I hope they will represent my blog to you as much as they do to me.
The last part will be the most difficult. 10 wonderful blogger who deserve this honor of being named the owner of a
'Blog with substance'
. There are so many deserving blogs out there. These will be in no particular order.
1.
A Journey
2.
Sugar Filled Emotions
3.
Borderline Families
4.
A Glass Half Shattered
5.
Sonya's World
6.
Anxious Kaley
7.
Awesome Cancer Survivor
8.
Telephone Panic
9.
The Bipolar Spouse
10.
Give This Stone
I just want to thank all of my readers for being who you are and for reading my blog. Thank YOU!