WOW! What a great way to start the day! One of the first things that greeted me this morning (aside from a child demanding to be fed and entertained) was a message from the wonderful Melissa from
SugarFilledEmotions.com
telling me she had 'something' for me. When I clicked on the link she sent me I saw that I had gotten an award. Not just any award but the
Beautiful Bloggers
award. And I was/am in great company with the other blogs listed.
From her description of the Award:
A Beautiful Blogger is someone who blogs with truth, honesty and integrity. They blog from their heart, sharing their story, humor, and life with others. They go out of their way to support others, giving of themselves to provide encouragement and brighten someone's day. They glow with a beauty that comes from within, and it shows in what they write and how they interact with others.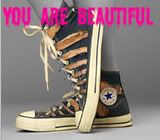 Now if that isn't a great way to start the day I don't know what is. If you want to check out the blogs of the other winners go
here
.
And I will pass on the award to two more beautiful bloggers:
Anonymous from
Sonya's World
who has the talent of writing honestly and openly about his wife's illness and all that entails.
Kristin from
BorderlineFamilies
who is willing to share her struggles in dealing with her daughter's illness yet never forgets to support and encourage others.