I am very happy to be introducing today's guest blogger to all of you. He is the writer behind Sonya's World where he writes about very candidly about his wife's illness and its effects on them and those around them.
"The Life Aquatic" is a recent Wes Anderson movie starting Bill Murray as Steve Zissou, an ocean-explorer and filmmaker styled after Jacques Cousteau. It's a fantastic movie, as most Anderson movies are, and is full of awkward comedy and extremely poignant emotions. Steve Zissou's best friend dies at the beginning of the movie, killed by the enigmatic Jaguar Shark that Zissou ends up chasing for the rest of the movie. The climax is when Zissou is in a submarine near the end, with the chance to finally confront the Jaguar Shark, while surrounded by his friends, family, associates, and even enemies.
He sees the Jaguar Shark. It is majestic and horrifying, and he realizes that he is powerless, he cannot conquer the shark, and must acknowledge this to himself alone. It is probably Bill Murray's greatest moment in his entire acting career. He looks defeated and horribly, tragically lonely. The other dozen people in the submarine recognize this, and all reach forward to comfort him by putting a hand on his shoulder.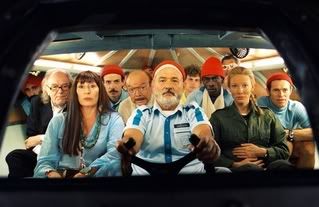 I go to such great length to describe this scene because that is how I often feel as the spouse of someone with a serious mental illness. My wife suffers with major depression with psychotic features. She was hospitalized nine months ago with intense delusions and psychosis, and has been grappling with depression and suicidal feelings since then. It has been horrible for her, as all mental illnesses are, but she is tackling it with a grace and strength that inspires me.
But while I love her, and do the best I can to care for her, I often end up feeling lonely and defeated through this recovery. My companion for life is pretty severely disabled at the moment, and that leaves me here, by myself, to do what I can. She's doing a bit better now, but there were long stretches of time when she was pretty minimal in her conversation. The person to whom I would typically turn to address any and all of my life's problems was too preoccupied and wounded to be there for me. And so I'd bottle up my own grief and let it out when I could—running alone in the dark on the beach, swimming in the ocean, or late at night, long after she was asleep, crying as I tossed and turned.
My Jaguar Shark is my wife's mental illness. It hasn't killed her but it has devoured a part of her that has yet to return. My Jaguar Shark is just as majestic and horrifying as it was for Steve Zissou, and I have had to confront my powerlessness over this shark in my own existential away. And there are people by my side who reach forward to comfort me, but this is mine to confront.
It was at my most lonely that I started writing. I tackle this alone, but I know that since mental illness is extremely prevalent, there are countless other spouses who feel what I feel. The uncertainty, the fear, the loss, but also the hope, the joy, the love. The experience is practically bipolar in and of itself, waffling from extreme to extreme.
And in writing, I have found other spouses to connect with, like Kris. Truth is, they are hard to find. There are not many other people out there willing to share their stories truthfully. There are family support groups that exist, but they are once a week and hard to fit into a real-life schedule. The online world is constantly humming at all hours of the day, and is willing to listen whenever you're ready to pour open your heart.
I write this now for the same reason that I write at my own blog. I write to scare out the loneliness, and to tell the world that if my wife is strong enough to defy her suicidal feelings, then I'm strong enough to confront my loneliness. I write anonymously, but I still write, and in doing so, I hope to empower the community of spouses that exists. I give Kris tremendous credit for putting herself out there in the same way, and to give voice to other spouses and writers like me. Because speaking up through writing gives us power in a powerless world.

Writing is my way of coping with the Jaguar Shark.