No, I am not pregnant. Our family still has grown by one member: Darkwing Duck also known as DD. Sorry for the blurriness but he just wouldn't hold still.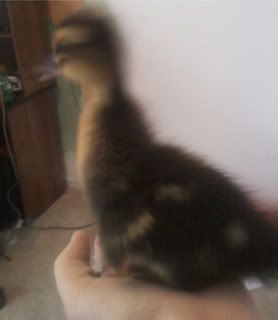 Now I am sure you are wondering why in the world we have a duck. L has been doing worse and worse over the past few days. Sunday night he used paypal to spend $20 on a fb game (account info has since been changed), he has been depressed, talking badly about himself ('I'm so worthless', 'I'm a terrible person'...) and just been difficult to be around. Sunday afternoon he had told me that he felt I was neglecting him over the girls and my work.
Fast forward to Monday morning. He told me that he wants to get a chicken and I tell him that I did NOT want a chicken roaming in our backyard. A few hours later he informed me that he is out of cigarettes. Since I was working I gave him some cash to go to the gas station to get two packs of cigarettes. Well, when he returned he had a duckling with him and no cigarettes.
And now we have a duck. At least it wasn't the potbelly pig they were selling at the feed store... Though if he had had enough money with him that might have been a close call. Note to self: next time make sure to say 'No livestock' instead of just saying 'no chicken'. L already had an appointment scheduled with his social worker for tomorrow which couldn't have been better timing.