Good morning (or whatever time it is for you while you read this)! Still at the Gulf for vacation. No oil in sight yet here so we have been able to go to the beach and enjoy the water. This was Little K's first time at the beach and she is loving it.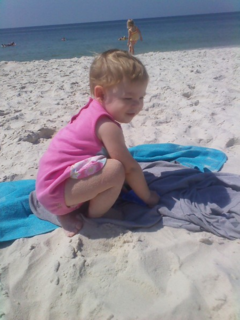 I took her to the pool yesterday and she kept trying to dive.
L is doing pretty good. No sleeping at night and he consequently he was very tired during the day yesterday but mood wise he is doing great. He has been doing so much with Miss K while we've been here. Thursday he took her on a 4hour deep sea fishing trip that they both enjoyed very much. They hadn't even been back an hour when Miss K wanted to know if they could go back again.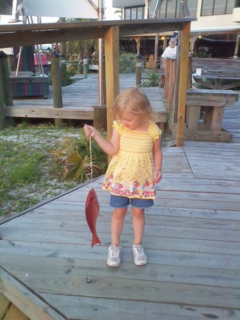 Today he woke us up early (after another night of no sleep) so that he could take her to his favorite beach to look for shells. It is wonderful to see them interact so much and in such a positive way. It is good for both of them. And I'm enjoying the free time it is giving me with just Little K.