As much as I have been complaining about not having L's meds yet I am eternally thankful for the VA and its healthcare system. L hasn't worked since he got out of the Navy in August 2007. From the very beginning the VA has been there for us. All his medication, doctor visits and hospitalizations are paid for. I just recently was able to start working. Before that I was unable to work because of my immigration status but also for the longest time because I was L's caregiver and would not have been able to leave him home alone or with first one kid and then two. Not to mention daycare costs for my girls would have eaten up most likely most of my income anyway.
I had started up writing this blog post last night and took the following pic the last time L took his meds. These are not all of them since he is still missing his Lithium.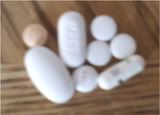 Coincidentally, a fellow blogger blogged today about the cost of his wife's illness. Check out
Sonya's World
for an extremely honest look at how mental illness has affected another family.
Since we don't have to pay for his meds it made me curious how much we would be paying for these necessary pills a month. I looked up the prices on
destinationrx.com
This is all based on a 30 day supply.
Lithium: $121.65
Abilify: $640.97
Prozac: $185.35

Total: 947.97

Add in his allergy meds and vitamins (necessity after his gastric bypass surgery) we get scarily close to $1000 a months. This is for 'just' his medication. If we were to add in his (at times weekly) visits with social worker, his visits with his psychiatrist (every 3 months usually), and all the other things we would never be able to afford this. And to him these things are necessary. We couldn't just say 'nah, not this month' because if we did he'd have to be hospitalized most likely which I don't even want to think about the bills we would have gotten for that.